This is a writeup of a recent article in The Las Cruces Bulletin entitled "Can An Old Dog Learn New Tricks?  Research says yes".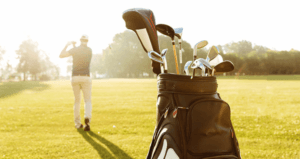 The more we learn about the human brain the more amazing it is.
What is "brain plasticity"
New research in neuropsychology is telling us that, as we get older, our brains can actually get better, instead of the other way around.   The phenomenon is called "brain plasticity":  our brains may be the most adaptable organ we have.
While it was once thought that our brain just gradually deteriorated as we aged (from about age 50 on), new findings in neuroscience research are revealing that the aging brain can change and actually improve.
This means that learning new ideas, skills, attitudes and behaviors is possible
For instance, it is suggested that a senior wanting to improve his/her golf game should do the following:
Since brain plasticity requires motivation, be willing to change and be in a mood to learn new stuff.   In golf, that translates to taking lessons and trying things which are out of your comfort zone.  Try things which are out of your comfort zone.
Secondly, we can only change things we're aware of, and things we're paying attention to:  High self-awareness is one of the key requirements of mental toughness.  It's also a critical element in high emotional I.Q. – the very thing that helps us to succeed in social and business settings.  So be sure to pay attention!
Thirdly, challenging ourselves with new tasks and games turns on the brain plasticity switches.
Your brain is inviting you to be young again
We can go a long way by promoting positive brain change (no, it's not too late!) by harnessing our potential for brain plasticity.
Be open-minded.  Try different problem-solving approaches.  For instance, if you're not happy with your current golf game, change it. Revamp your swing; develop new shots; hit the ball farther.  Skill building certainly extends to learning new mental toughness techniques, such as acute visualization.  Be open-minded.  Try different problem-solving approaches. In golf that means different shots and creative strategies.
One of the things we know about the aging brain is that if you keep doing the same thing over and over again, especially when you're older, you end up making your brain and actions more rigid, and we don't want to be rigid.
These strategies  for improving brain plasticity, as described in this section,  can be applied to all areas of human endeavor.
= = = > See also article in VeryWellMind entitled "How Experience Changes Brain Plasticity"> = = =
We hope you have enjoyed reading this blog.  Our goal, as always, is to present new research containing new suggestions for all to try.  Brain improvement, as always, is our GOAL!  Please leave us a comment if you enjoyed the blog.
Click on the heading  "Brain Games" (top of page) to view the latest blogs on this website.  Enter the full or partial title of an earlier blog in the "Search" box to view the desired blog.