This is a review of the book "Learning and Memory:  How to Use Advanced Strategies & Techniques to Remember More, Learn More, Accelerate Your Brain Power & How to Avoid Memory Deficit…Life (Learning & Memory Improvement Book 1)"
Date:  May 12, 2021
Best place to buy:   Amazon.com
Author:  Stirling De Cruz-Coleridge
Price:  $10.95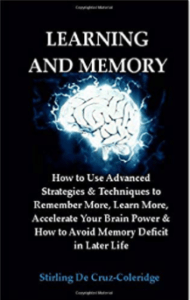 The mind is a very complex system.   Are you looking for the blueprint for mastering it to make it work for you?  Then this book is for you.
This book is full of amazing techniques to develop your memory, recall and concentration.
What You Will Find in This Book:
Strategies, techniques and tools that you will need to increase or improve your memory.
Stay focused longer and be able to concentrate in stressful circumstances.
Find out how you can master long-term memory (easily recall stored information), and short-term memory (what you recall in the present moment)
Use mental techniques for remembering names or tasks and errands.
Use your imagination to help you improve memory recall and focus.
Easily remember numbers.
Learn to unravel and connect information and ideas in long-term memory.
Get tips for better memory retention, as well as methods of increasing memory power and concentration, especially when studying or just generally (in senior years).
Be introduced to advanced strategies and tips to boost memory. In this book, we also consider a wide spectrum of factors that greatly affect our learning ability and memory.
Find out about habits that prevent you from mentally retrieving important information.
Learn a method of thinking that will help you to recall information better.
Stay focused longer and concentrate in stressful circumstances.
MORE ABOUT THIS BOOK…
From doing the exercises in this book, you will soon find that you are developing unlimited memory.  You will find out more about this long-term memory process in learning and neurobiology.
Remember that the majority of people hardly access a small percentage of memory recall.
Learning and memory are interdependent.  It  is essential to find out how do we remember and develop strong memories. The role of the brain is vital. Find out more about the long-term memory process in learning and neurobiology.
Book Organization
This book is organized in 16 chapters:
Chapter 1:  Brain Work-Out to Improve Your Memory System
Chapter 2:  Exercise to Improve Your Memory
Chapter 3:  Sleep to Boost Your Brain and Aid Learning
Chapter 4:  Socialize to Boost Your Brain
Chapter 5:  Stress
Chapter 6:  Laughter Helps Memory
Chapter 7:  Brain Power Diet to Boost Your Memory
Chapter 8:  Identify and Manage Health Issues
Chapter 9:  Boosting Brain and Learning Power
Chapter 10:  Guide and Support Learning and Memory
Chapter 11:  Eliminating Distraction Tips
Chapter 12:  Memory Loss or  Dementia
Chapter 13:  Skills For Life – Accelerate Memory When Taking Notes To Learn
Chapter 14:  Brain Fog and The Female Menstrual Cycle & The Menopause
Chapter 15:  Memory and The  Male Menopause
Chapter 16:  What Can We Conclude About Learning and Memory?
Examples of some of the tips, ideas and exercises in this book
Brain Workout (Chapter 1)
Leave your mobile phone in your overcoat pocket.   And imagine your phone telephones you from your own mobile to say that it is in your coat pocket.  Remember…the more ridiculous the story…the easier to remember!
Stress (Chapter 5)
Chronic stress can destroy brain cells and damage the memory area of the brain (hippocampus).
Tips for learning to manage stress:  Learn to be assertive and express your feelings.  Focus on one task at a time.  Classify your "to do" tasks into low, medium and high priority.  Spend 35-40 minutes a day doing Meditation.  Do Yoga exercises.
Identify and Manage Health Issues (Chapter 8)
Pay attention to health issues such as heart disease and risk factors, hormone imbalance, diabetes, medications, anxiety, depression.  These can cause memory loss and difficulty in concentrating.
Boosting Brain & Learning Power (Chapter 9)
Pay close attention.  You cannot remember something that you have never learned, and you cannot learn something if you don't pay close attention to it.  Involve all your senses, if at all possible, when learning and try to relate the information to colors, textures, sounds, smells and tastes.  Recount and link information to what you can already remember, thus forming a web of connected knowledge in your mind.  For instance, form an acronym of what you want to remember:
Example of an acronym:  Remember the colors of the spectrum with the acronym:  ROY G. BIV (= red, orange, yellow, green, blue, indigo, violet).
What Can We Conclude About Learning and Memory (Chapter 16)
Creating a Memory Palace is one excellent way to improve learning and memory.
One of the main reasons we often misplace car keys, TV remote, or cell phone is because we often store similar versions of these memories in our brain.  With the Memory Palace, we create a precise scene where these objects are always at the same place.  The Memory Palace is helpful because it makes you associate a particular object with a particular place in your house (your memory palace), and that doesn't change.
It is to be noted that the Memory Palace is one of the oldest memory-enhancing techniques in existence.  The technique was introduced to the ancient Romans and the world via Greek rhetorical treatises.
Pros and Cons
Pros:
You cannot go wrong doing the exercises in this book.  They will definitely improve your learning and memory!   All are goals that I strongly believe in!
Cons
I cannot think of any.  You can never be too smart!
Click here to order this book, directly from the merchant's website.
As an Amazon Associate I may earn a small fee from qualifying purchases.  You will not pay more when buying through this site.
RECOMMENDED FOR YOU
SPECIALS:   Following are links allowing you to explore inspirational promotions, events, deals and products throughout Amazon. 
= = > Spotlight:   Click here to explore What to read in 2021 > = =
= = > Spotlight:   Click here to explore Best Sellers in Software > = = =
= = > Spotlight:   Click here to explore Best Sellers in Video Games > = = =
= = > Spotlight:   Click here to explore Free games and in-game content > = = =
= = >  Spotlight:    Click here to explore  Subscribe and Save Items Only > = = = 
More brain games can be found under the heading "Brain Games", by clicking any of the published blogs in the pages listed for the following categories:
"Brain Games For Children"
"Brain Games for Adults"
"Brain Games for Seniors"
"Advanced Brain Training"
"Optimal Brain Health"
In addition, if you want to search for a particular blog, enter its title in the Search bar in the blog roll which appears during blog viewing.